Whittington Church of England Primary School has six Core Christian Values. These values are: Responsibility, Respect, Forgiveness, Thankfulness, Courage, Friendship. Each value is in focus for half a term each year. Assemblies are used to promote each value and children undertake work in classes to develop their understanding. The values are displayed around the school and celebrated in weekly 'Well Done' assemblies.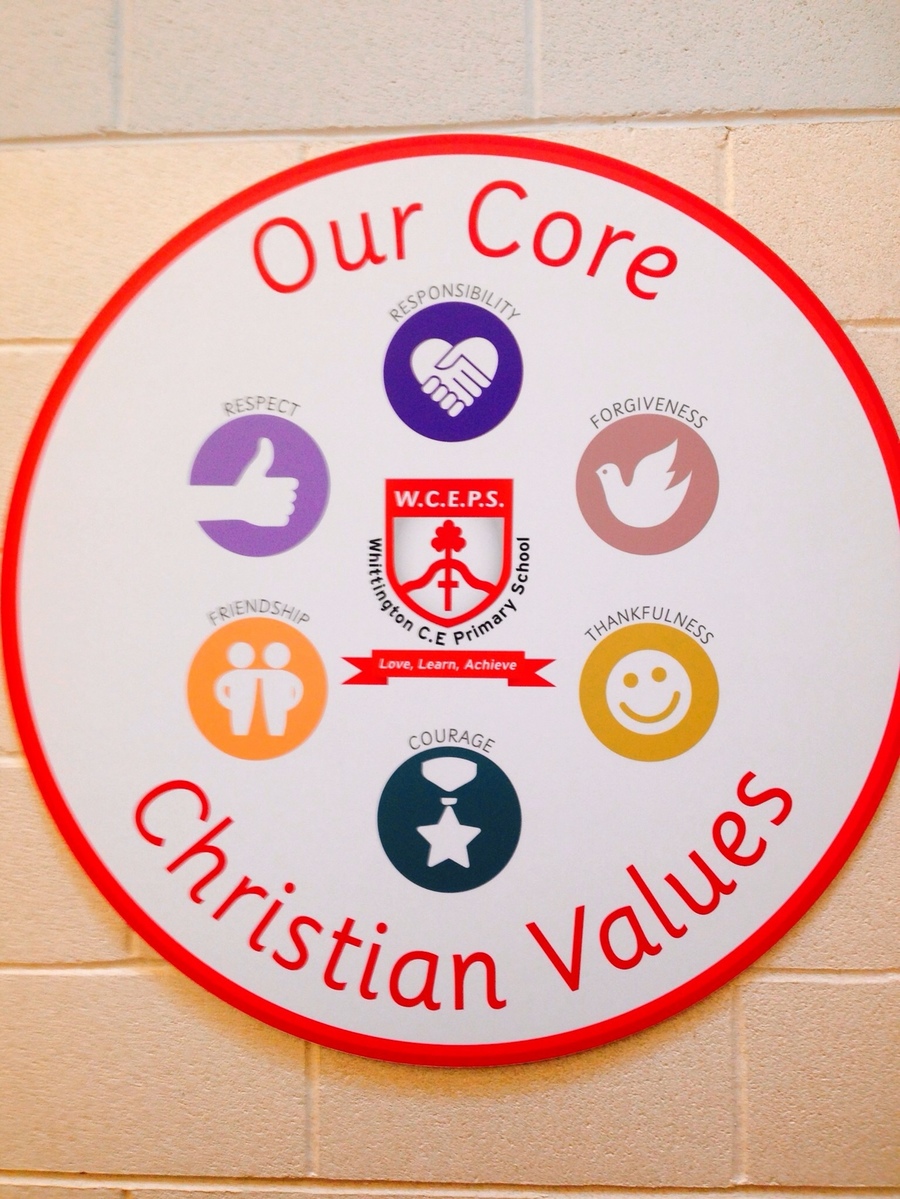 Spiritual, Moral, Social and Cultural Development
At Whittington Church of England Primary School:
Social development is encouraged through an understanding that teamwork means being willing and responsible for oneself, each other and the environment where we live; and so, actively building a happy community.
Moral development is demonstrated by taking responsibility for our own actions and recognising that these actions have consequences which can be either positive or negative. We show an understanding of right and wrong by making positive decisions about our behaviour and interaction with others.
Spirituality is developed through exploring and developing an awareness of the inner self including: self-worth, potential and personal beliefs and values.
Cultural development is promoted through experiencing our own culture and the culture of others. We grow an open-mind which understands respects and celebrates diversity.
Whittington Church of England School promotes Social, Moral, Spiritual, Cultural development through:
Collective worship
Close links with our parish church and its parishioners
Daily prayer and reflection
Values Education (our core Christian values)
Interfaith activities to celebrate diversity, including the observance of some of the significant festivals from other faiths.
Seeking opportunities to promote SMSC within the curriculum
A broad and balanced whole school curriculum
Off site visits and experiences
Learning a foreign language (including Intercultural understanding)
Learning a musical instrument
Participating in sport
Participating in art and exhibiting at regional festivals
Cluster events including sporting activities and challenge days.
House system
Empowering pupils (House captains, School Council, Eco Council, CREW and listening to the voice of the learner)
Personal, Social and Health Education sessions
Guest visitors in school